I'm a bit late...ok..a lot late posting this month. It's been one of those months. I've had good intentions, but never seemed to get anything done.
How fabulous is this kit?!
In celebration of National Papercrafting Month, Close To My Heart invites you to reflect on the things that make you who you are and on what you want to accomplish in the coming months. Then, with the help of the Year >> Noted paper kit, record your experiences and goals! During the month of January, with a qualifying purchase of $50, you are eligible to purchase the exclusive Year >> Noted paper kit (which has a retail value of over $24) for only $5—that's over 80% off retail! Or, for an additional $5, you can order the Year >> Noted paper kit with an accompanying My Creations™ kraft mini book. The paper kit for both options includes a C-size stamp set, stickers, cardstocks, and B&T Duos™ papers, all specially designed to coordinate with the My Creations™ kraft mini book so you can have a yearlong scrapbooking experience. This means you will receive over $34 worth of product for only $10 if you purchase the kit with the accompanying mini book! But the fun doesn't end there—included on the sticker sheet, you will find a large golden seal. Once the year is done and all the pages are filled, seal up your book and create a mini time capsule that you can open years from now. Remember, this deal is only available for January, so make sure to get your own Year >> Noted paper kit today for the perfect start to a crafty year!
Dates:
Offer valid January 1, 2015–January 31, 2015. To see the full flyer with all the papers, embellishments and the stamp set,
Click HERE
You can see some artwork with the kit,
HERE
EXTRA! EXTRA! Extra hostess rewards when you host a CTMH party with $350 in sales!
During the month of January, all Gatherings that reach $350 or higher will be eligible to receive up to 50% more Hostess Rewards! This means an additional $30, giving you the opportunity to earn up to $230 or more in select free products. This offer is only available during January and is the ideal pairing for your National Papercrafting Month Gatherings, so join in the celebration and watch your earnings grow!
How cute is this stamp set?! This month's Stamp of the Month can be yours for only $5 with a $50 order or $17.95. S1501 This Moment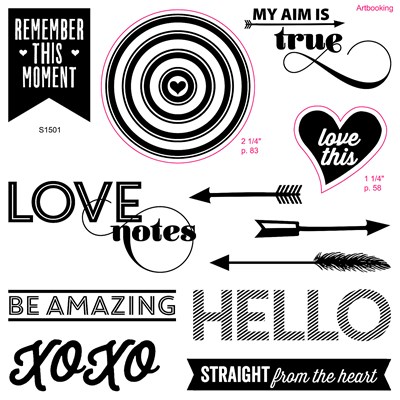 See the red lines around some of the images? That means there is a Cricut cut on the Artbooking cartridge to make your crafting easier.
1.31.15 Retiring Sets
The following stamp designs are being retired. They will no longer be available to order after January 31, 2015. These sets can be viewed in the "Retiring Items" category on your OBA.
A1124 A Tree
A1139 Congrats Graduate
A1141 Be Still
A1154 Friendly Thoughts
A1156 Flower Confetti
B1418 Love Doily
B1423 Hoppy Easter
B1439 Dreamer
B1440 Fancy Fair
B1441 Buggy Love
B1444 Greatest Love
B1445 Happy Hive
B1450 Owls
C1571 You're the Best
C1573 Do Your Best
C1574 Believe in Yourself
C1577 Mother's Day
C1579 Coming Up Roses
C1583 Robot Family
D1547 Paper Doll
D1579 Windy Day
M1035 Newlyweds
M1036 Perfect Polka-Dot Day
M1037 Balloons
M1038 Shooting Star
M1039 Good Job Stencil
M1040 Parasol
M1041 Hi
M1042 Colored Egg
Wow! This turned into a large post! I hope you stayed with me until the end. If you have any questions on anything, please do not hesitate to
email me
.