Hi Everybody!
I hope you had a fabulous Thanksgiving!
The countdown to Christmas has started! Ever notice how quickly Christmas comes after Halloween? I keep saying one of these days we're going to see a skeleton sitting on Santa's lap in the stores. What's the hurry?!
---
Cyber WEEK...no little Cyber Monday for CTMH!
For five days only, a selection of items from Close To My Heart's current product inventory can be yours for 25% off retail price! Get supplies you'll need to make handcrafted gifts and cards for the holidays, including our Cricut
®
Artfully Sent Collection, at an amazing discount!
Starting this morning at 9am MT, you will receive a 25% discount on the following items.
Z3111 Base & Bling Snowflake Charm Faux Gold
Z3112Base & Bling Jingle Bell Faux Gold
Z3135 Base & Bling Snowflake Charm Faux Silver
Z3136 Base & Bling Jingle Bell Faux Silver
Z3138 Base & Bling Red Bead Charm Faux Gold
Z3139 Base & Bling Red Bead Charm Faux Silver
Z3180 Picture My Life™ Going Places Scrapbooking Program
Z3147 Cut Above™ Dapper Giraffe Card Kit
Z2028 Designer Creations Short Stack Album
Z2036 Designer Creations Slate Paper Bags
Z2037 Designer Creations Lagoon Paper Bags
Z2038 Designer Creations Ruby Paper Bags
Z2039 Designer Creations Honey Paper Bags
Z2049 Designer Creations Cupcake Box
Z2050 Designer Creations Takeout Box
Z2053 Designer Creations Buttoned Bag
Z1838 5"x7" Hinged Display Tray
Z1750 Designed Décor Display Tray
Z2006 Designed Décor Red Magnetic Chalkboard
Z2015 Designed Décor Black Shadow Box
Z2016 Designed Décor Colonial White Shadow Box
Z1833 My Creations™ Kraft Container
Z1871 My Creations™ Kraft 3 Ring Album
Z1953 My Creations™ Journaling Cards Box
Z1956 My Creations™ Hip Pics Album
Z3043 My Creations™ Black Mini Book
Z3044 My Creations™ Kraft Mini Book
Z3069 My Creations™ Mini Mix Album
Z3137 My Creations™ Pint Sized Container
Z3168 Cricut® Artfully Sent Collection
Z1476 4 ¼" x 5 ½" White Daisy Envelopes
Z1477 5"x7" White Daisy Envelopes
Z1478 6"x 6" White Daisy Envelopes
Z1756 3"x 3" Colonial White Envelopes
Z1757 4¼" x 5½" Colonial White Envelopes
Z1758 5"x 7" Colonial White Envelopes
Z1759 6" x 6" Colonial White Envelopes
Z1851 Scallop Border Punch
Z1997 Triangle Border Punch
Check it out! Even a Cricut Cartridge!
Start Shopping
---
Are you a "paper planner" person? Have I got a special for you! This special starts tomorrow, December 1st.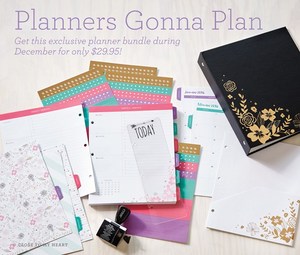 During December, you can get your hands on the new, gorgeous Everyday Life™ album from Close To My Heart, the accompanying Everyday Life 2016 planner pages, and the coordinating Everyday Life Perfect Plan roller stamp in an exclusive product bundle for only $29.95. That's over 15% off the retail price! With the new Everyday Life line, you'll experience "memory keeping on the go" as you track your menus and shopping lists, stamp reminders, keep appointments, and tuck away precious memories—plus much more—all at once! This offer is only available while supplies last, so plan to place your order early in the month and start 2016 off right.
Dates:
Offer valid December 1, 2015 (9:00 am MDT)–December 31, 2015 (11:59 pm MDT).
---
My creative juices have been flowing the last couple of days. Here are three different workshops available now.
No time to make your handmade cards this holiday season? Let me help you out. In each of these two card kits you will receive prestamped and precut product to create 12 cards each. Both kits are $15 each, which includes the postage.
Red Card Kit
Green Card Kit
Or
email me
to order your kits(s).
---
Are you planning to take lots of Christmas pictures this year? I've created 4 double page layouts using the new, limited edition,
White Pines paper packet
.
When you order the following items
from my website
or
via email
, you will receive cutting directions for all eight pages.
X7200B White Pines Paper Packet $9.95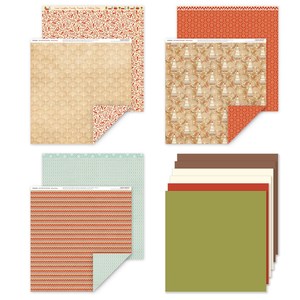 Z3077 White Pines Assortment $5.95
Z3090 Red Enamel Dots $3.95
Suzastampin